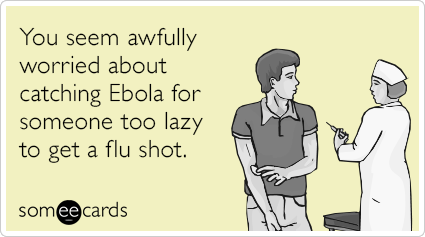 Many of the news stories about ebola are overhyped (something Jon Stewart lamented back in August). But don't despair. The CDC has clear information and guidelines for the public. If you're looking for something more detailed, Nature has extensive and thoughtful coverage including both news and research papers.
We've been "50 years away" from fusion technology for about the last 50 years, but that's all over now that fusion technology is 10 years away. Maybe.
NPR has a couple of podcasts exploring the history of women in computing and the link between the rise of gendered marketing of personal computers and the decline of women programmers from their prior ubiquity in the position. The history of computing, and of women's contribution therein, has become a hot topic in popular culture, dramatized in the series Bletchley Circle and Halt and Catch Fire and the upcoming Alan Turing biopic The Imitation Game.
In light of this week's recall notices, be sure not to drink spoiled milk. While you're at it, don't self-medicate with bleaching agent sodium chlorite. Health Canada has seized and issued warnings about the "Miracle Mineral Solution" bogus cancer and autism cure, while the Canadian Food Inspection Agency has recalled Natrel dairy products over faults in the company's pasteurization process.
In a longform article for The Atlantic, Meghan O'Rourke surveys the recent spate of books by physicians bemoaning the current state of the medical profession, the decline of the doctor-patient relationship, and the lack of recognition that an empathetic medical team offers benefits on par with those from sophisticated, high-tech interventions.
The last place you'd expect to find a national park is downtown Toronto, but that's exactly where the David Suzuki Foundation's volunteer park rangers work to create and protect a Homegrown National Park designed to increase urban green space, encourage pollinators, and promote green community-based projects.
YouTube vlogger Cory Williams (DudeLikeHella) found the "coolest sound ever" skipping rocks on a frozen lake in Alaska. The bizarre pinging and twanging sounds audible in the viral video are due to vibrations in the ice.